Best of British Wooden Box
30/03/2012
---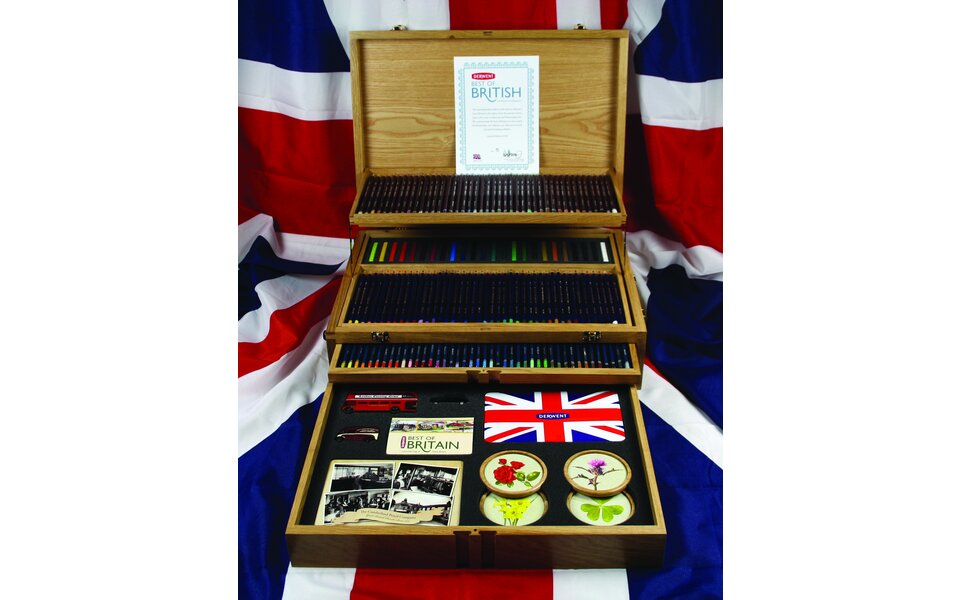 There couldn't be a better time to celebrate all that is great about Britain with so many special events happening this year
There couldn't be a better time to celebrate all that is great about Britain with so many special events happening this year; the Queen's Diamond Jubilee, London hosting the Olympic Games and the Cumberland Pencil Company marking 180 years of world class pencil making in Britain. Founded in 1832 the Cumberland Pencil Company was the first and is now the last pencil manufacturer in Britain, and to mark its 180th Anniversary it has produced a 'Best of British' limited edition wooden presentation box beautifully crafted in Oak and celebrating Great Britain in all its glory.

Only 500 of the Best of British collection boxes have been made. They have been filled with a stunning selection of 165 fine art pencils and blocks drawn from Derwent's unique, innovative and classic ranges. These include Coloursoft, Inktense, Watercolour and the traditional Graphic pencils which are presented in a special edition Union Jack tin. The collection also includes an array of useful and creative accessories ranging from erasers, embossing tools, a sharpener and a paper stump.

The Best of British presentation box features a pull-out Commemorative Draw full of iconic symbols of Great Britain and the Cumberland Pencil Company. Including models of a London Taxi and Routemaster Bus and the Cumberland Pencil Company delivery van which sits outside the Pencil Museum in Keswick. The draw also contains a vintage metal sign depicting scenes from the old pencil mill and 4 coasters each one featuring a drawing of one of the UK's floral emblems; a Rose, a Daffodil, a Shamrock and a Thistle. You can also take a tour of the British Isles using the pictorial map illustrating well known and loved British landmarks from Stonehenge to Edinburgh Castle and the Giants Causeway to the Angel of the North.

Each presentation box is individually numbered and comes complete with a certificate of authenticity.

For more information and to buy please visit www.derwentshop.co.uk.